This comprehensive guide has everything you need to know about trading LTC. Litecoin is one of the oldest cryptocurrencies in the market that is usually nicknamed the "digital silver." , and it makes for one of the best investments that one can make. 
What is Litecoin Trading?
Litecoin trading is when one buys and sells Litecoin according to the price movement. The process of trading Litecoin is similar to that of trading any other asset in that the end goal is to make profits.
One can trade Litecoin in many ways, but one of the most popular ways is in the spot market. Trading LTC in the spot market is easy for beginner traders, as you simply have to make your trade by betting on the price movement.
Litecoin is one of the oldest cryptocurrencies; thus, this coin has been traded for many years now.
Litecoin is one of the oldest cryptocurrencies; thus, this coin has been traded for many years now. Going by its price performance over the years, LTC has made major gains, and it could be open to more gains in the future.
The cryptocurrency market is still new, and therefore the prices are very volatile. The prices of Litecoin can fluctuate very fast and by large margins. This volatility can make trading LTC a highly risky venture.
Why you should trade Litecoin
One of the primary reasons to trade Litecoin or any other cryptocurrencies is to make profits. However, there are other major reasons why one should trade Litecoin. These reasons include the following:
Network Effects
Bitcoin stands as the top and most popular cryptocurrency in the market. However, given that its price has skyrocketed to new highs, very few people can afford to buy one Bitcoin, and they look towards alternative coins such as Litecoin.
Bitcoin is known as the "digital gold", while Litecoin is known as the "digital silver." Litecoin has been in existence since 2011, and over the years, it has garnered a strong community support system. Therefore, its network shares the same benefits as Bitcoin in being the pioneers of the sector.
High Upside
There is much potential for the Litecoin network and for the price of LTC to make notable gains. The Bitcoin network has seen increased adoption over the years, resulting in growing transaction fees.
As Bitcoin gains value, it has now been deemed a store of value. Some investors believe that Litecoin could pick up from Bitcoin and become an affordable network to conduct transactions. If Litecoin gains the same level as Bitcoin in the future, LTC could make a strong uptrend.
Potential Interoperability with Bitcoin
The Bitcoin and Litecoin networks are some of the oldest in the crypto space, and they share several similarities. Litecoin integrated SegWit before it was adopted on the Bitcoin network. Moreover, both Bitcoin and Litecoin have the Lightning Network and Atomic Swaps in their development roadmaps.
If the Bitcoin and Litecoin networks mature and reach the desired levels of development, they could become interoperable. The two could work together and achieve transaction processing at low fees. Interoperability between Bitcoin and Litecoin will allow the users of the two networks to make payment transactions between each other.
Why you shouldn't trade Litecoin
Litecoin makes for one of the viable investments in the cryptocurrency sector. The coin has potential for gains, given that its network shows potential for future adoption. Nevertheless, below are the top reasons why you should not trade Litecoin:
Follower, not a leader
The Litecoin network has the potential to grow and gain a high level of adoption. However, it faces stiff competition from a crypto and blockchain space that has grown significantly over the years.
Moreover, the Litecoin network does not seem to have an original roadmap. The network seems to choose features that are on the Bitcoin network. The failure of the network to grow and make its upgrades independently has made it lose a huge chunk of followers.
The stigma of silver
Litecoin has been proclaimed as the "digital silver", reducing any chances the network has to surpass Bitcoin. Some networks in the market have been working to become the top cryptocurrencies.
With Litecoin, it seems as if the developers have settled on coming second after Bitcoin. This can deter any investors looking to invest in a cryptocurrency that has the potential to replace Bitcoin.
What moves the price of Litecoin?
When trading Litecoin, one is betting on or against the coin's price movement. As aforementioned, the cryptocurrency market is volatile, as prices can move unexpectedly. Below are the top factors that move the price of Litecoin:
Litecoin supply
The financial markets are driven by the forces of demand and supply. The prices of coins in the cryptocurrency market can also be driven by supply, and this factor has been affecting LTC's uptrend over the years.
The fixed supply of Bitcoin at 21 million coins has been touted as one of the key factors driving its prices. However, Litecoin's supply is much higher, and it has been attributed to LTC's low price.
Industry adoption
The adoption of Litecoin has remained significantly low despite the coin being launched during the early years of the cryptocurrency market. While it has been promoted as a better alternative to Bitcoin as a means of payment, industrial adoption is still low.
The only way that Litecoin can match up to Bitcoin is if it is adopted by many businesses globally. If a major institution adopts Litecoin, the price could see a significant spike.
Bad press
Litecoin has not been receiving a lot of good press over the years. This is similar to the broader cryptocurrency market that has been shrouded with a lot of negativity, given that it is yet to be regulated on a comprehensive scale.
The value of Litecoin is driven by the perception of the public. When there is favourable news in the market, the price of LTC tends to shoot, and when the news is negative, LTC tends to take a dip.
LTC market cap
The price of Litecoin plays a major role in the coin's market cap. Growth in the market cap happens when the price gains and investors usually monitor the fluctuations in the market cap.
The market cap of Litecoin is as volatile as its price, hence for investors to continue buying more, this market cap needs to grow bigger as the number of LTC holders grows. Litecoin's market cap also needs to stay among the largest ones in the market to continue luring investors.
Bitcoin's price
The price of Bitcoin and Litecoin are correlated, despite the two being entirely different networks. Whenever the price of Bitcoin rises or falls, the majority of the broader market, including Litecoin, tends to mimic the price movement.
If Bitcoin surges in the future, Litecoin will probably rise; hence, an investor can predict what will happen to LTC by predicting what will happen to BTC.
Where can I trade Litecoin?
Trading Litecoin can seem complex for a beginner trader, but in most cases, the process is easy and even more convenient than trading in the securities market. If you want to trade Litecoin, you can do so on the following platforms:
Online Brokers
One of the platforms where you can trade Litecoin is through an online brokerage firm such as that of PrimeXBT. A brokerage firm allows you to buy and sell Litecoin on the platform, and you have to part with some trading fee for the transaction to be facilitated on your behalf.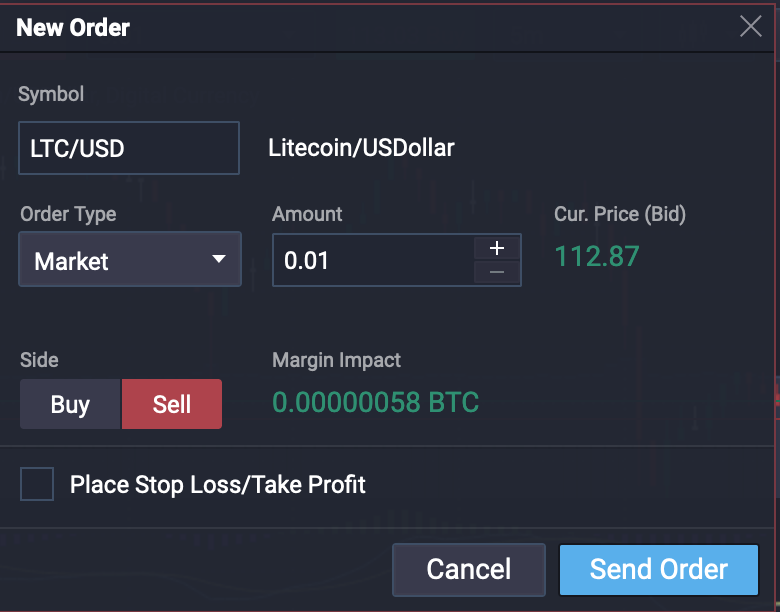 Several benefits come from using an online broker to trade Litecoin. One of these is that these platforms are good for beginner traders. They allow them to buy and sell at the ongoing market prices for a chance to make profits.
Online brokerage platforms also provide you with the chance to use leverage trading to boost your trading position. Some brokerage platforms will give you up to 100x leverage, allowing them to create large positions that they would not normally create with their capital.
Brokerage platforms like that of PrimeXBT, also come equipped with trading tools ideal for both beginners and experienced traders.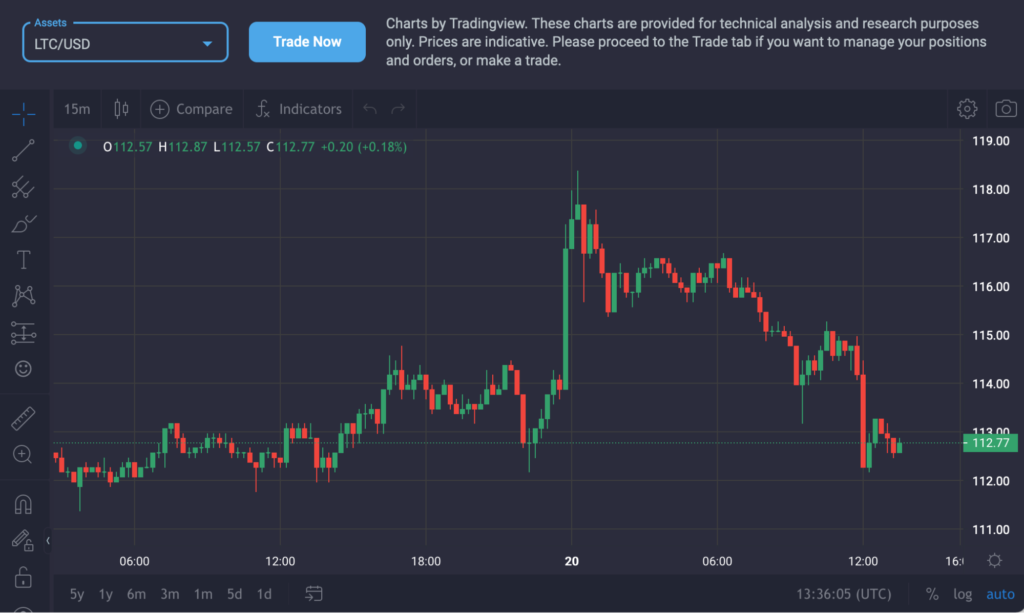 Moreover, most brokerage firms that want to play in the global field are highly regulated, giving traders a high sense of security.
Derivatives Exchanges
Cryptocurrency exchanges have largely evolved from those that simply offer spot trading to those that provide derivatives trading. Some of the largest cryptocurrency exchanges offer derivatives trading options such as contracts for difference (CFDs), futures and options.
Using an exchange for derivatives trading provides many benefits. Exchanges will allow you to buy and hold Litecoin as you wait for future price movements. They also support a wide range of cryptocurrencies, making them ideal for a trader looking for a diversified portfolio.
Exchanges have also been built to be convenient to new and expert traders. They provide both advanced and simple tools that make it easy for every trader to use despite their experience level.
How to trade Litecoin
If you want to trade Litecoin and be part of its growing community, there are steps that you need to follow to ensure that you have a high chance of making profits and avoiding mistakes. Below are the steps to follow when trading Litecoin:
Step 1: Open an account
The first step is to create an account on the platform where you want to trade Litecoin, whether it is on a spot or futures basis. The process of opening an account differs between exchanges. With PrimeXBT, it is very simple and fast. Simply register.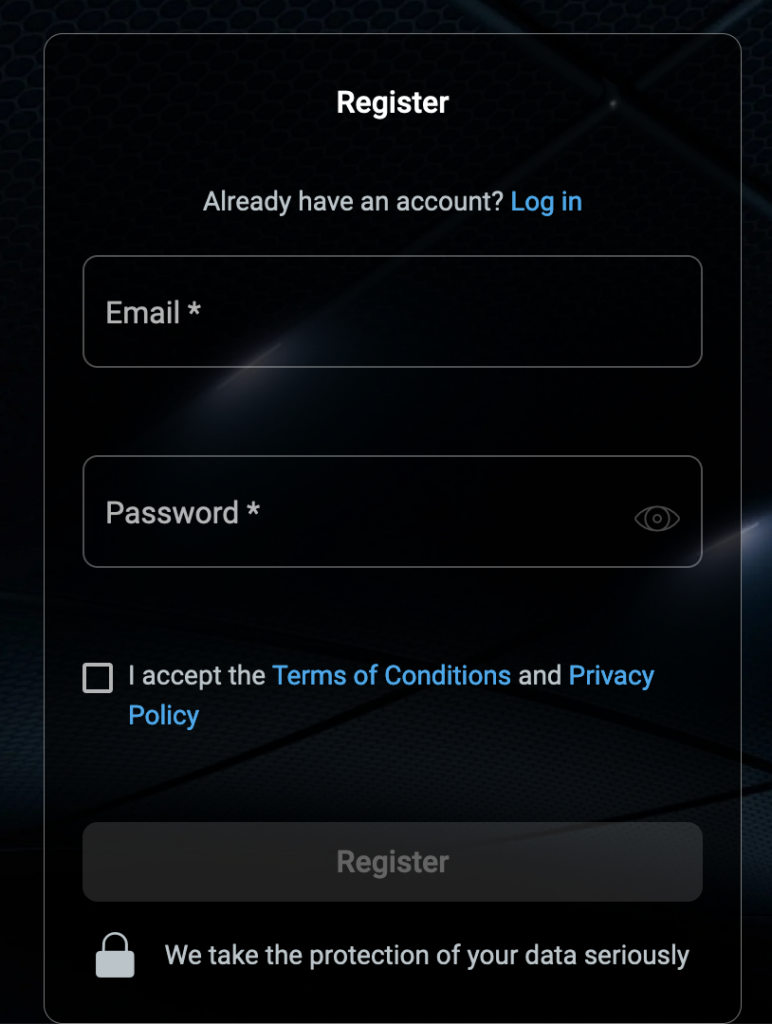 And verify your email to start.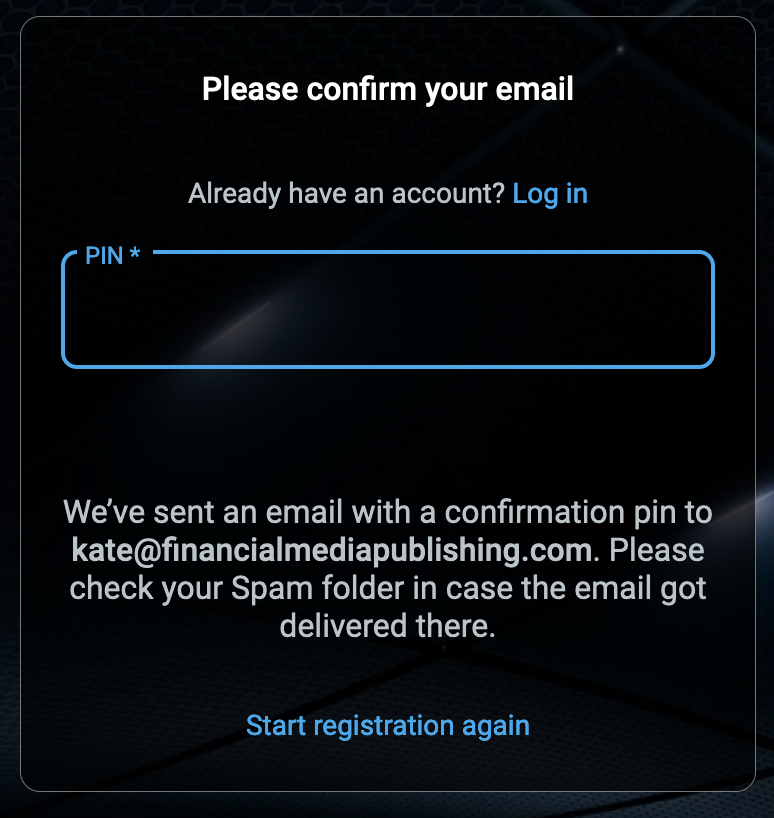 The regulatory framework for digital assets has shifted greatly over the past few years. For exchanges to remain compliant, they have shifted their operations from being fully decentralized, and they are now verifying user details.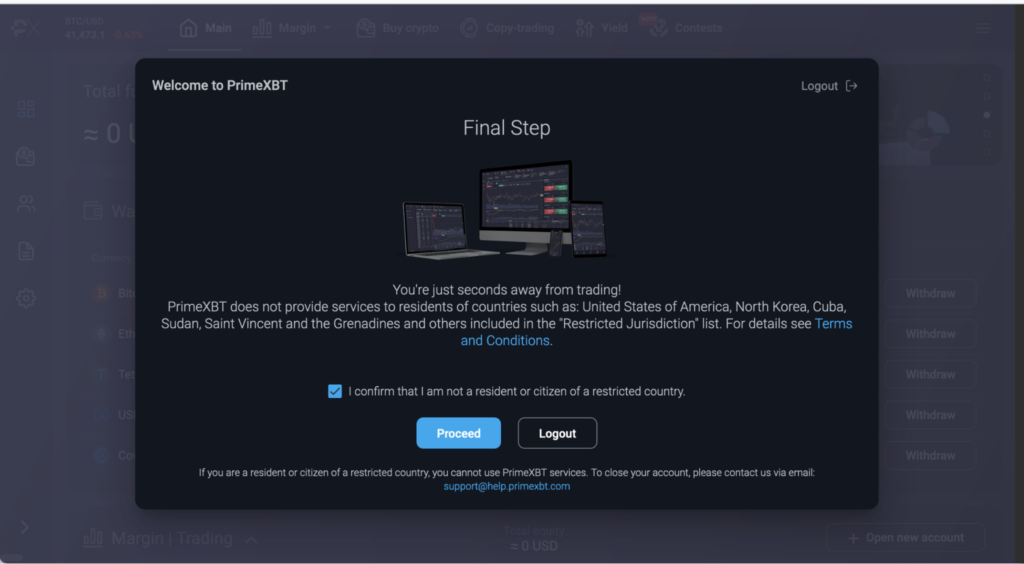 Therefore, ensure that you know the requirements needed on the platform you want to use Litecoin. Most importantly, ensure that the platform you want to use is regulated in your country.
Step 2: Develop a trading plan
The process of trading Litecoin can be easy, but the volatility can make it hard for a beginner trader to know the best time to take profits. To ensure that you stick with your profit goals, it is important to have a trading plan.
Through a trading plan, you can determine whether you want to become a day trader or a long-term trader. Day trading is where you trade against the daily price movements of Litecoin. You can also decide to become a long-term trader, where you buy LTC and then hold it for a specified period as you wait for a price gain.
By having a trading plan and sticking to it, you are assured of not making trades based on market sentiments. Making trades out of the emotions of fear or greed can result in financial loss.
Step 3: Do your research
There are many informative pieces online with all the details about Litecoin. However, it is important to do your own research to determine whether LTC is a good addition to your investment portfolio.
You can conduct your own research and analysis to determine what the price of Litecoin might be in the coming years. Being in control of your decision making process can help you avoid investing in assets that are beyond your risk appetite.
Step 4: Place a trade
The last step is to place your trade. You can place by choosing an order type on the exchange or online brokerage platform. The size of position you take on your trade will determine the profits or losses that you might make.
You can close your position after you have made the desired level of profits or when you want to avoid further losses. You should note that each trade placed on an exchange is charged a trading fee, and you should assess the fee charged to ensure it does not eat into your profits.
Litecoin trading strategies
If you want to have a better chance at making profits with Litecoin trading, it is important to implement some trading strategies. These strategies help you become a better trader and they include the following:
Bollinger Bands Litecoin Trading Strategy
The movement of the Bollinger bands is used to assess the volatility of Litecoin. This strategy can also be used by a trader to determine when to go long and when to go short. This is determined by the position of the middle-BB line.
The middle-BB line is a moving average that can determine when a trend reversal will happen or when a trend will grow stronger.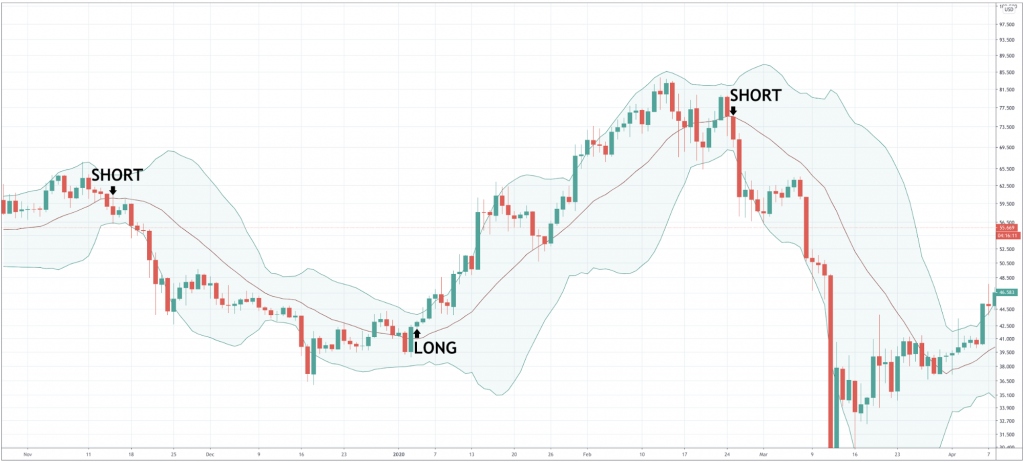 Ichimoku Litecoin Trading Strategies
Ichimoku can be a complex indicator for a beginner due to the many details involved. However, it is one of the most used indicators for analyzing price movements.
One popular signal in Ichimoku is the Tenkan Sen (red) and Kinjun Sen (blue) lines. If the two lines cross above each other, the trend is bearish, and if they cross below, the trend is bullish.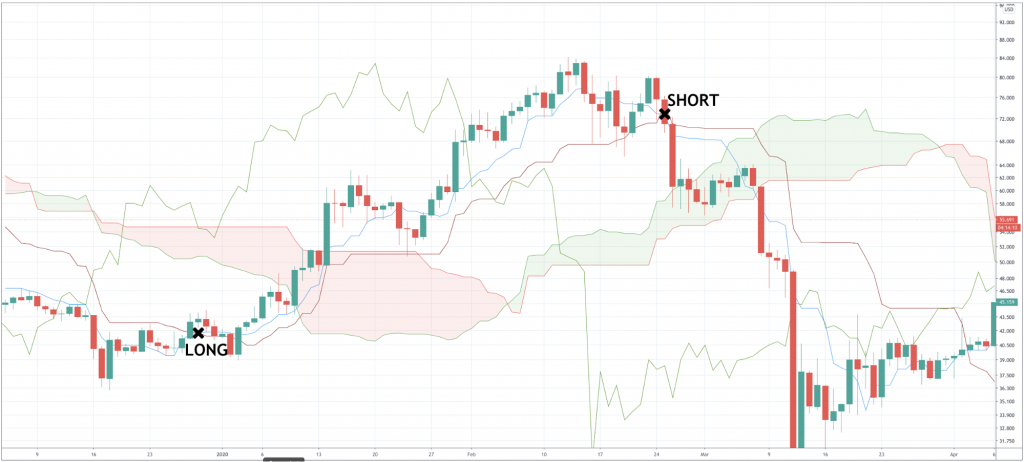 MACD Litecoin Trading Strategies
MACD is also a reliable trading signal that traders use to determine whether to go long or go short. However, it is also referred to as a lagging indicator, and it is recommended to combine it with other tools to confirm the expected price movement.
On Balance Volume Litecoin Trading Strategies
On Balance Volume can be used to detect trend changes before they occur. The indicator is based on volumes and how this influences the price action. On Balance Volume is also known as the smart money indicator.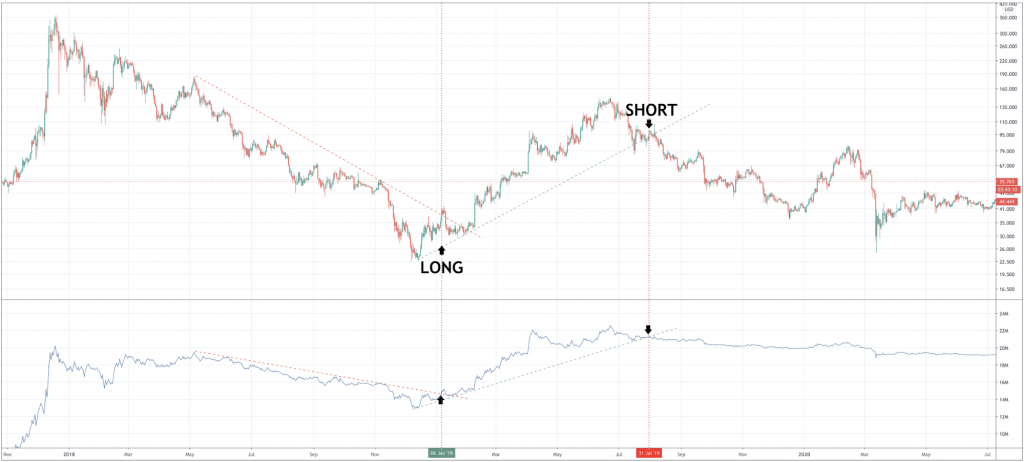 What to consider when trading Litecoin
You need to consider several factors to determine whether investing in Litecoin is a good investment strategy for you. These factors will also help you have a higher chance of taking profits.
Fees
When you are trading Litecoin on any platform, you will have to part with brokerage fees. These fees are charged by the platform for facilitating your trade. The fees charged vary between exchanges.
Trading Commission
Trading commissions are charged for every trade that you make on the exchange. You can be charged either a flat rate or a percentage of the trade that you are going to make. The rate charged is hardly the same across exchanges.
Not all exchange platforms charge trading commissions. Some promise traders that they will not part with any fees when making their trades on the platform. However, it is important to know that such exchanges will have a wide spread.
Spread
Exchanges that do not charge trading commissions make profits through having wider spreads. A spread is the gap between the buying and selling price as listed on the exchange.
For example, an exchange can list the buy price of Litecoin as $100 and the selling price as $100.30. This means that your position will always be open to a slight loss, which is an indirect fee charged by the exchange.
Other trading fees
Besides the trading commission and the size of the spread, a brokerage platform might also charge additional fees. Some exchanges will charge you a fee for making withdrawals and deposits in your account.
If your account remains dormant for long, you might find an inactivity fee charge. However, the types of fees charged and the amount is not the same between exchanges. Therefore, when choosing an exchange, be thorough in assessing their fees.
Tips for Trading Litecoin
Some of the top tips to use when trading Litecoin include the following:
Use analytics tools

: It is always crucial that you use analytics tools to make your trading decisions. These tools are readily available online, and they guarantee that you have a smooth trading process.

Follow the community

: The cryptocurrency community is very active on social platforms. Follow the developments and discussions about Litecoin, and this can help you predict short-term or long-term price changes.

Have a stop-loss

: If you are a risk-averse trader, it is recommended to have a stop-loss order in place. This order will limit your losses to only what you are willing to handle. A stop-loss order will also allow you to take your profits early enough before the market plunges.

Do not trade out of emotions

: Some traders make the wrong decisions due to the fear of missing out (FOMO) or out of panic. Despite the emotions in the market, stick to your trading plan and do your own research before placing a trade.

Have a diversified portfolio

: IT is not advisable to have an entire portfolio with only one cryptocurrency. The entire market is volatile, but the gains and dips between coins differ.
Why trade Litecoin with PrimeXBT?
PrimeXBT is one of the reliable exchange platforms where you can trade Litecoin. PrimeXBT has a wide range of features that make it ideal for every trader, despite their level of experience.
Copy trading:

PrimeXBT has a copy-trading feature that comes in handy for a trader with less experience. The feature will allow you to copy the strategies used by expert traders on the platform.

Price charts and tools:

PrimeXBT also comes equipped with charts and tools. The charts can be customized to fit all trading strategies. Having easy access to charts and tools is important in making trading decisions.

Attractive fees:

PrimeXBT charges attractive fees and commissions. There are no hidden charges, and you can be assured that there will be no large deductions despite the size of your trade.

User-friendly interface

: PrimeXBT has a user-friendly interface that makes it ideal for a beginner trader. Getting started on the platform is easy, while setting up your account will take only a few minutes.
FAQ: Frequently Asked Questions
What Is Litecoin?
Litecoin is a cryptocurrency that is built on a modified version of Bitcoin's code. The blockchain and economic structure are very similar and even have the same block reward halving mechanism every four years.
Should I Invest In Litecoin?
Investing in Litecoin has proven profitable in the past, but over the last two years of the bear market prices have mainly been falling. Even if things are turning around, trading Litecoin is the better option, as traders can profit whichever way Litecoin turns and make money both directions.
How To Make Money With Litecoin?
Trading Litecoin is the simple answer. Utilizing technical analysis and careful risk management, traders can profit from markets on platforms like PrimeXBT.
What Is Litecoin's Ticker Symbol?
Litecoin trades under the LTC ticker symbol against USD, BTC, or other fiat currencies and cryptocurrencies.
Where Can I Trade Litecoin?
Litecoin trading is common these days, but the best and safest platform to trade Litecoin is on the award-winning PrimeXBT. Litecoin is available alongside other cryptocurrencies, stock indices, gold, silver, oil, gas, and much more.
Risk Disclaimer
Investing in or trading gold or other metals can be risky and lead to a complete loss of capital. This guide should not be considered investment advice, and investing in gold CFDs is done at your own risk.
The information provided does not constitute, in any way, a solicitation or inducement to buy or sell cryptocurrencies, derivatives, foreign exchange products, CFDs, securities, and similar products. Comments and analysis reflect the views of different external and internal analysts at any given time and are subject to change at any time. Moreover, they can not constitute a commitment or guarantee on the part of PrimeXBT. The recipient acknowledges and agrees that by their very nature any investment in a financial instrument is of a random nature and therefore any such investment constitutes a risky investment for which the recipient is solely responsible. It is specified that the past performance of a financial product does not prejudge in any way their future performance. The foreign exchange market and derivatives such as CFDs (Contracts for Difference), Non-Deliverable Bitcoin Settled Products and Short-Term Bitcoin Settled Contracts involve a high degree of risk. They require a good level of financial knowledge and experience. PrimeXBT recommends the consultation of a financial professional who would have a perfect knowledge of the financial and patrimonial situation of the recipient of this message and would be able to verify that the financial products mentioned are adapted to the said situation and the financial objectives pursued.